One powerful solution to drive your business forward
Financial advice is changing. More and more clients expect access to products and services online, whenever and wherever they need it. Leading financial advice providers use intelliflo office to evolve and adapt to these changing needs.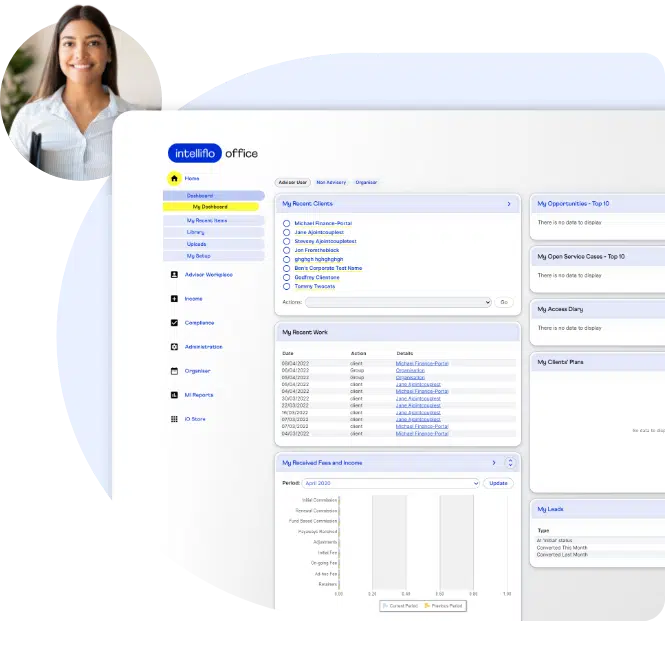 Designed for financial advisers
Deep industry experience goes into our award-winning financial software that's tailored to the real needs of advice professionals.
Extensive and adaptable
The most capable financial software system in its class is also the most flexible, scaling and adapting to fit your practice.
Powering life-changing advice
intelliflo office forms the beating heart of over 2,500 financial advisory practices, helping them deliver for their clients when it matters.
Streamline your advice process
intelliflo office does much more than give your clients access to your services online. It streamlines your entire advice process, giving you the time you need to focus on your client relationships.
Reduce costs

Make cost savings through more efficient, automated processes
Reduce manual work

Input your client's data once, and use it for many purpose
Remote access

Enjoy remote access to intelliflo office 24/7
Scale as needed

Scale to match the size of your business, today and tomorrow
Save time

Managing your entire advice process via one system
Assemble vital tools

Integrate the tools you use most via the intelliflo store
intelliflo office features
intelliflo office has a host of features that make life easier for you and your staff.
intelliflo store
Browse and purchase apps from our partners to complement intelliflo office.
Book a demo
The best way to explore our solutions is to see them for yourself, with a free live demo.
Opens in a new window
Opens an external site
Opens an external site in a new window