How the right technology can help keep your clients close, and your business fit
Successful advisory firms are using cashflow planning technology to help them increase client engagement and drive profitable relationships, whilst building in efficiencies across their business.
Effective cashflow planning brings together all areas of financial advice with client objectives into illustrate a single, coherent life plan. This transparent approach bolsters confidence on all sides, nurturing long term client satisfaction, loyalty and referrals.
Harnessing the power of technology to engage your clients
Cashflow planning is a great example of how advisers can use technology to improve the delivery of advice.
Choose a powerful solution that can manage the needs of every client; one that lets you cover all of the angles in one place, from solving client's tax, pensions and investment complexities to asset and liability modelling and wider financial strategy planning.
The best solutions would include:
Live adjustments: this will enable you to explore unlimited scenarios to help clients understand the impact of their decisions. It brings financial planning to life using flexible graph options that visually drive home the value of your advice.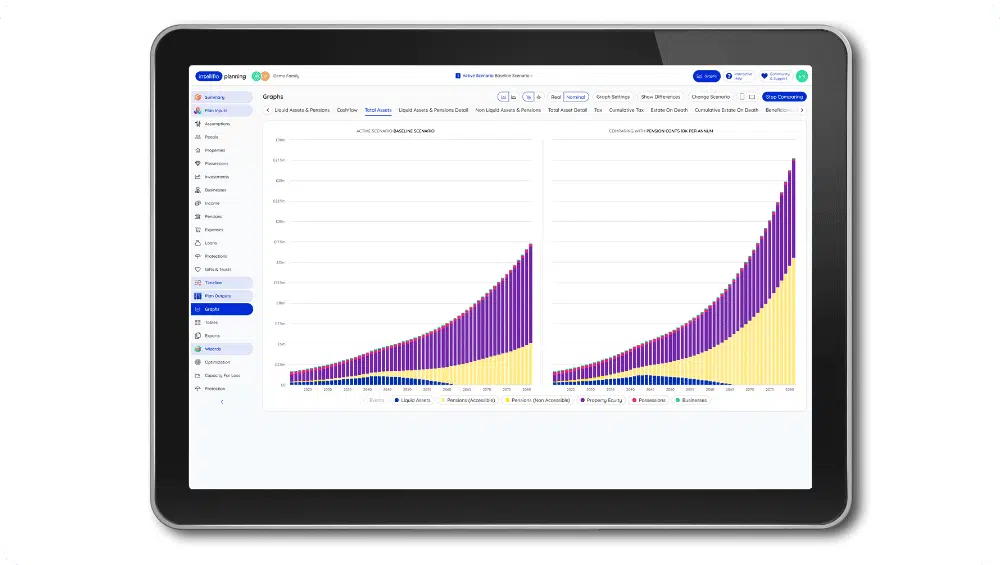 Transparency: when nothing is hidden from you or your clients, decisions can be made collaboratively, with clarity and purpose.
Powerful calculations: with tools that let you effortlessly view and adjust tax calculations and capacity for loss for individual clients, it's easier to highlight potential savings as well as any protection needs.
Taking the strain out of data entry and compliance
Cashflow planning technology can produce immediate efficiency and productivity gains, starting with the data entry process – which should be easy to do, and eliminate the need to enter data multiple times.
From a compliance perspective, the advantages of a comprehensive, single-system solution are obvious: it allows you to establish new levels of consistency and control across your team, minimising the compliance burden with a transparent audit trail.
Choosing an adaptable solution that delivers for all your clients – and your firm
However simple or complex a client's details are, the right software can incorporate all goals and scenarios into one user-friendly financial roadmap. Easily integrated, it will simplify your processes, whilst bolstering your client's confidence in your advice.
When it's placed where it should be—at the very heart of client relationships – cashflow planning technology can be a powerful tool at every stage of the advice journey.
Cashflow planning doesn't have to be complicated. intelliflo planning is a user-friendly, intuitive platform that allows you to easily and clearly demonstrate the value your advice brings.
Opens in a new window
Opens an external site
Opens an external site in a new window