Financial planning
Great financial planning is at the heart of the client relationship. intelliflo office gives you the tools you need to make it happen.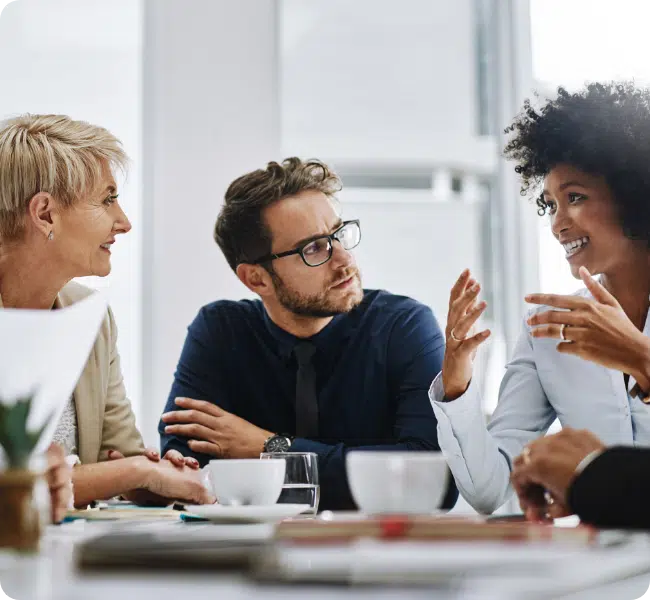 Automation and efficiency
intelliflo office lets you follow a particular financial planning route. It wraps your existing processes via workflows and lifecycles within an automated flow to monitor and report progress, and makes research and reporting more efficient.
Bring financial planning to life
Highlighted plan updates
Follow the complete audit trail with complete transparency.
Detailed tax computations
Provide swift tax calculations, displayed in clear visuals.
Unlimited scenario planning
Help your clients understand the impact of different strategies side-by-side.
Efficient goal analysis
Calculate client risk profiles and protection needs.
Simplified data entry
Increase accuracy rate and reduce data entry errors.
Fully customisable settings
Ensure consistency across all users and groups.
intelliflo office makes financial planning simple
When a new advice process begins (for example, an annual review, addition of new money or addition of a new client), intelliflo office automatically creates a Service Case. This Service Case aggregates all items relevant to the advice process into a centralised packaging tool, and gives you the ability to track case progression in configurable advice stages.
Flexible workflows within intelliflo office
Workflows within intelliflo office are a configurable set of processes made up of tasks acting as reminders. As workflow steps are based on tasks created within intelliflo office, they can be worded exactly the way you need them.
personal finance portal (PFP)
Any documents saved within intelliflo office can be issued to your client via the personal finance portal (PFP) at the click of a button.
Open banking integration
We've further enhanced the financial planning experience by introducing open banking integration.
Why this could benefit you
All data entered in the portal will update the fact find within intelliflo office. This data can be pushed to cashflow modelling at the press of a button, delivering huge efficiencies.
Bring your clients closer to their financial goals
Understanding your clients' desires and situations is vital for creating financial plans that meet their unique needs.
Cashflow modelling – for financial planners
Efficiency with rapid data entry and unified calculators
Structured, consistent, high-quality reports
Show clients the value of your advice, help them make better-informed decisions and offer interactive review meetings
Generate more business by uncovering opportunities
Reports produced in MS word, so they're easy to incorporate into your own documents
Cashflow modelling – for management and compliance
Consistent, compliant-wide processes
Make financial planning advice robust and stress-free
Focus time on providing true financial planning
Prepare your clients for the future
Cashflow modelling is central to the advice process, but it can seem complex. Presenting analysis to clients can feel daunting, but it doesn't have to be this way.
intelliflo office features an integrated cashflow capability that delivers simple, engaging scenario modelling to help your clients build brighter futures.
Cashflow modelling starts here
If you're not already, here's why you should be using cashflow modelling.
Changes the client relationship
Cashflow modelling is interesting and engaging for clients. Once you get them into the right mindset, they love talking about themselves and their plans.
From 'financial plan' to 'life plan'
Cashflow modelling can consider events that affect client assets – for example, receiving an inheritance, downsizing their home, or losing their super/pension.
Transform your role
By adjusting the levels of interest or return, you can create a picture of the results of varying scenarios. This can be transformative: it turns you from an 'adviser' into someone they'll stick with for life.
Helps attract younger clients
Younger clients are more tech-savvy, and expect the same of their professional advisers. Cashflow modelling has clear benefits for them, as they can see the effects that different assumptions will have on their lives.
Work with more clients
The time efficiencies cashflow modelling creates means you can work with more clients, generating more revenue for you and your business. Firms who adopt our cashflow planning tools see significant growth in fees per head, clients and referrals.
Demonstrate value quicker and easier
Cashflow modelling means you can show value to your clients across asset values, tax, ongoing sustainability and more. You can clearly evidence the value that your advice is adding.
Harness technology to engage your clients
Successful firms use cashflow planning technology to increase client engagement, drive profitable relationships and build efficiencies.
Nurturing long term client satisfaction, loyalty and referrals
Effective cashflow planning brings together all areas of financial advice with client objectives into a single, coherent life plan. This transparent approach boosts confidence on all sides, nurturing long term client satisfaction, loyalty and referrals.
Improve the delivery of your advice
Cashflow modelling is a great example of how you can use technology to improve the delivery of your advice. Cover all of angles in one place, from solving tax, pensions and investment complexities to asset and liability modelling and wider financial strategy planning.
Opens in a new window
Opens an external site
Opens an external site in a new window